About Us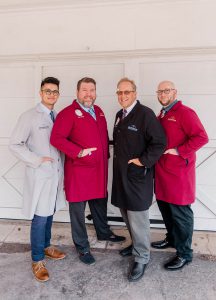 Illinois Watch Company started in 1867 in Springfield Illinois. It went through a few reorganization and the name changed slightly from time to time but essentially it was the same company up until 1928, Hamilton Watch Company purchased them and intended to make watches out of both plants. When the stock market crashed in 1929 they closed the factory in Springfield and continued assembling the already made parts in Lancaster PA until 1938. Swatch group eventually purchased Hamilton and in 2004 they no longer needed the Illinois Watch Company trademarks. The company applied for the trademarks through the USPTO and was finally awarded the trademarks in 2009. We have started designing our own watches that are available for sale on the site. These are all Swiss components and are assembled in the USA. We are in the process of developing new prototypes and hope to have some in house assembled watches soon. Our goal is to completely manufacture a watch in house so there can be a manufacturer of watches in the US again.
Your watch is a valuable possession and its proper repair and restoration is important to us. Only a qualified watchmaker can be entrusted to work on the precise, delicate movement inside your watch. While Illinois Watch Company takes watch repair and the field of horology seriously; consumers should take necessary precautions with on-line watch repair.
Choosing the right watchmaker for your repair or restoration
CW21 Certified Watchmakers: The new certification is aimed at determining if a watchmaker possesses the superior skills and knowledge for servicing quality watches. It is checked by a very rigorous test, essentially it is a four-day written examination. Then three and a half days of practical examination working on watches that has had errors introduced into them and then re-servicing them to make them run to factory specifications. This designation shows the watchmaker is capable of diagnosing and servicing your high grade mechanical and quartz watch. With a formal certification standard in place, there are now about 300 fully certified CW21 watchmakers in the United States out of the approximately 10,000 watchmakers practicing is a pretty elite group.
The CW21 certification denotes a qualified watchmaker with the skills to repair and restore your quality timepiece. Beyond the confidence that the CW21 designation gives you, there is an additional step you can take to ascertain the quality of your watch repair.
Before you send your watch to anyone you should be asking some important questions
First is all work done on premises?
Is there a CW21 watchmaker on premises?
Can the CW21 certification be verified independently?
Who is your insurance carrier?
Do you use genuine parts?
You should get positive answers to all of these questions and be able to verify the CW21 certification independently there are many people that say they have the certification that actually do not.