How do I get an estimate?
To get an estimate simply Click Here or call us at (877) 224-6350. In most cases we can provide you a good faith estimate for repairs/service on your watch based on the costs to repair similar watches to yours. We will need the following information:
How old is your watch?
Has the watch ever been repaired or serviced? If so when?
Is there a specific problem that is occurring with your watch?
Some watches that are experiencing specific problems may be unable to have a clear number and it may be necessary to send in the watch so we can properly diagnose the problem and give an accurate estimate (There is no a charge for an estimate and inbound shipping is FREE of charge.)
If possible please communicate with us prior to sending in your watch so we know that it is coming.
How can I send in my watch for repair?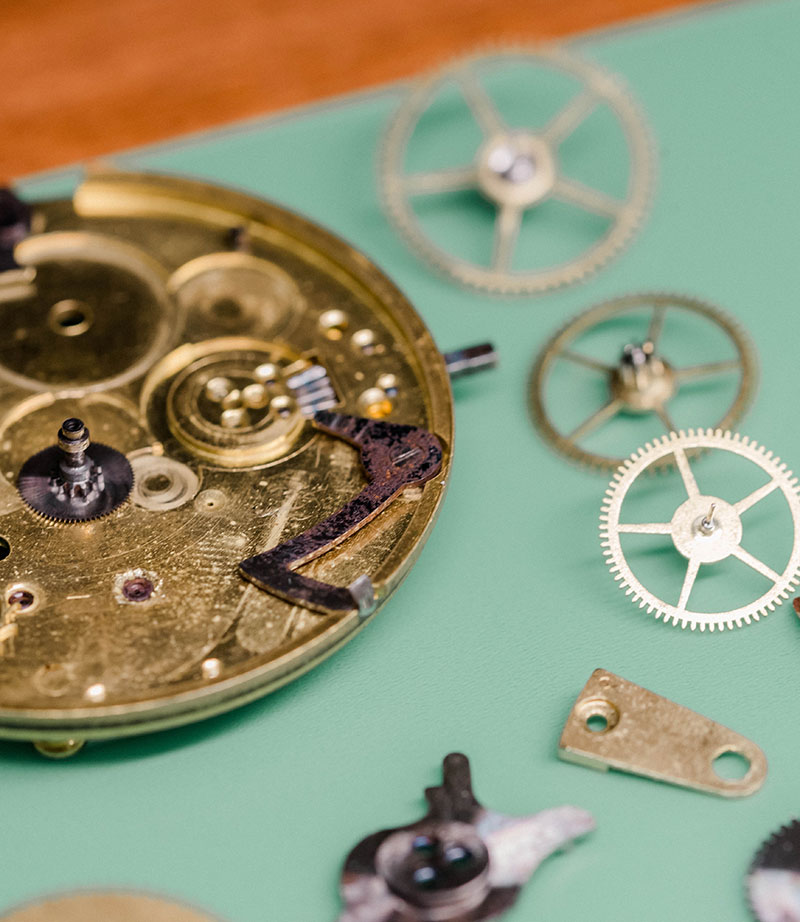 We recognize from previous experience that watches can get damaged in shipping. For this reason, we will send you a shipping box with special protective packaging via United States Postal service unless you specifically request a different service. For you to safely ship your valuable watches in for an estimate and repair. There is no charge for the special packaging, unless you request a special shipping company. We have found this is the best way to ensure your watch gets to us with no additional damage from shipping. It is our way of assuring that you have the best experience possible with Illinois Watch Company right from the start. Your special shipping package will arrive via USPS priority mail within two business days of your request for the shipping package.
Click here to get started or you can Call us today at (877) 224-6350.
Your shipping package includes instructions on how to put your watch into the packaging for shipping. It will come with a prepaid shipping label so all you will need to do is attach the label to the packing boxes and take it to a US post office near you.
We will contact you via email as soon as we have received your watch. In the email you will receive our initial survey of the exterior of the watch, this will not include your estimate or any survey of the interior of the watch.
When we have thoroughly inspected the watch and have diagnosed the problem we will contact you by e-mail and by phone if needed with your estimate for repairs. There is no charge for the estimate, and if for any reason you decide not to proceed with the repair, Illinois Watch Company will ship you back your watch. The cost will be for return shipping and insurance which is a flat-rate within the continental USA for priority mail insured shipping of $35.00.
How do I know I can trust Illinois Watch Company?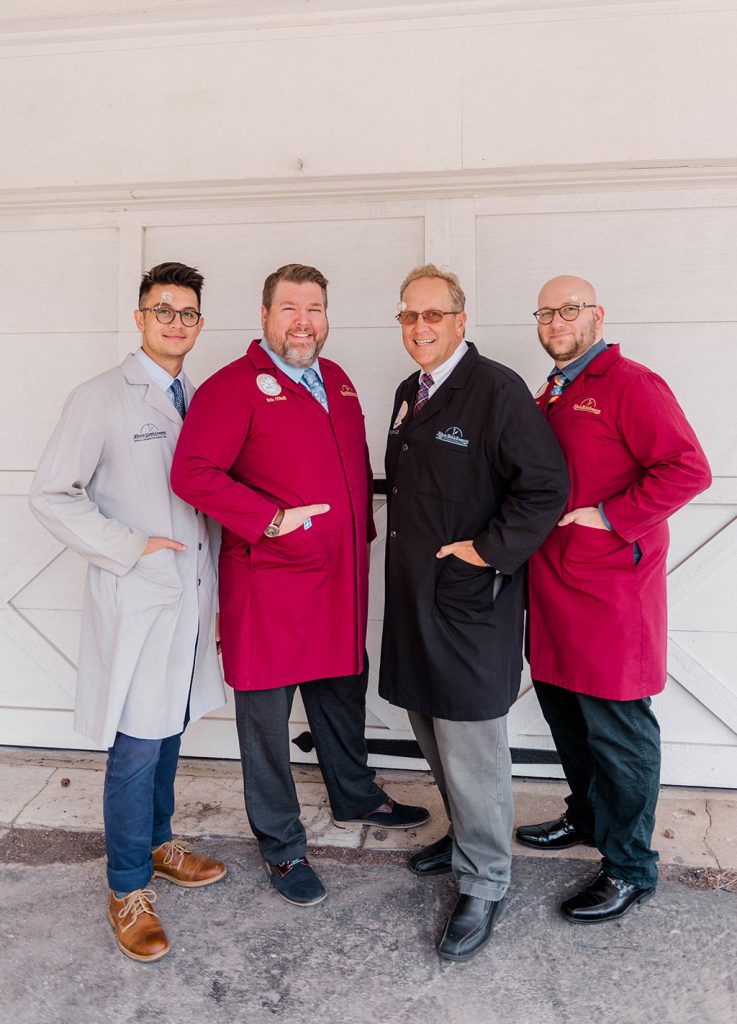 This is the most important question that should be asked before sending your valuable timepiece. You should take the time to do some research and find out exactly to whom you are sending your watch. It is important that you feel comfortable before proceeding.
First we are a real brick and mortar company, you can bring your watch in to us during regular business hours.
We have been servicing fine watches since 1995. All of the work will be done on our premises on site. We do not send any watches to other facilities without your complete knowledge and consent.
We have CW21 certified watchmakers on site, also Omega certified OWME 1120 8500. We also have additional watchmakers that have completed Watchmaking School and have taken various training tasks and attended classes but have not yet taken the CW21 examination. All work is overseen and checked by a CW21 certified watchmaker.
We will take the time to answer all your questions by phone or email.
Our head watchmaker is very experienced and provides attention to detail. He is well known for his thoroughness in his work and a certified CW21 watchmaker. Your watch will be repaired and refinished by our highly trained watchmakers and nothing less.
Illinois Watch Company is a member of the American Watchmakers clockmakers institute. We adhere to their code of ethics. We will conduct ourselves as professional horologists in ways which will reflect well upon themselves, the organization and profession. Craig Stone proudly owns Illinois Watch Company.
What are your hours of operation?
Our hours of Operations are as follows: (Central Standard Time)
Monday 9:30 AM to 5:00 PM
Tuesday 9:30 AM to 5:00 PM
Wednesday 9:30 AM to 6:00 PM
Thursday 9:30 AM to 6:00 PM
Friday 9:30 AM to 4:00 PM
We are not usually open on weekends or later but we will see you if you need to schedule an appointment for after hours or on a weekend please call for availability.
If we are not available when you call, please leave us a message and be sure to include your area code and we will return your call as soon as possible. We do respond to estimate requests over the weekend, when possible.
Do we warranty all service and repairs?
YES we warranty all of our work for a period of 12 months, on watches older than 25 years it is a 12 month labor only warranty (unless it is a part that we replaced during service). This warranty of service starts from the date you receive your invoice.
We attempt to achieve the best possible performance from your watch and our guarantee is to take care of your watch after we do our work and stand behind our work.
If the watch does not perform as designed and it has anything to do with how we performed our service, we will do whatever is possible to remedy the situation as quickly as possible.
Please call us at (877) 224-6350 or contact us by e-mail 12watch@sbcglobal.net and let us know your problem or concern. We will assist in the return of your watch so that we can correct the problem.
What forms of payment are accepted and when do I pay?
We accept all major credit cards: Visa, MasterCard, AMEX and Discover. You will pay for the service when your repair is complete. We will send you an invoice that you may pay via PayPal or you can give us your credit card information and we will charge your credit card in house. Remember if someone asks you to pay in full up front you should look elsewhere.
What is a CW21 and why is it so important?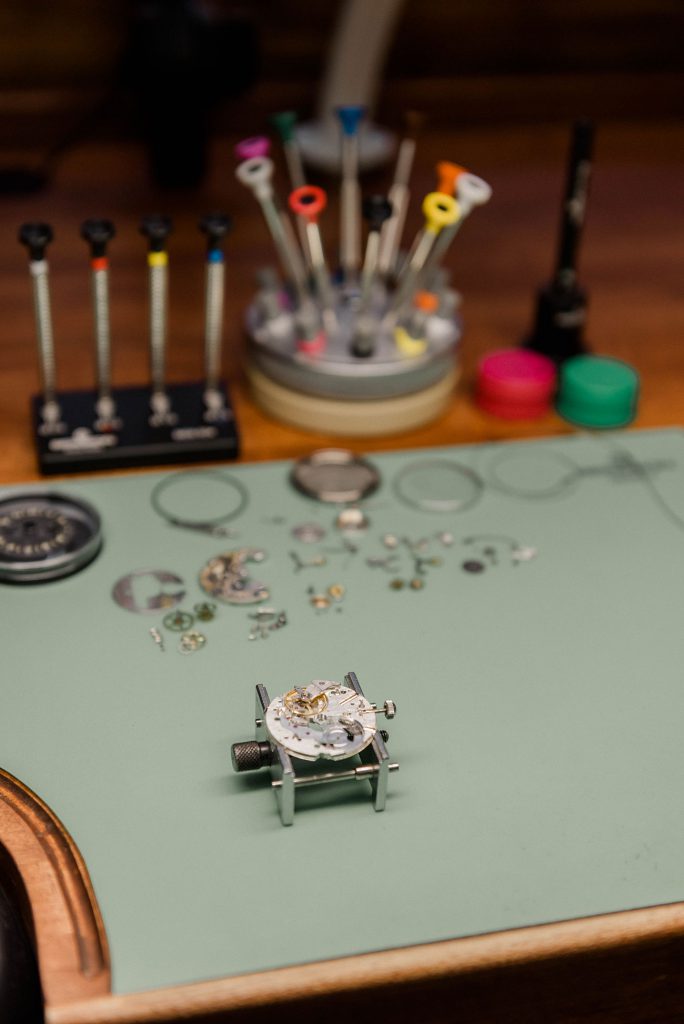 The CW21 is a designation from the American watchmakers clockmakers institute.  It stands for 21st century certified watchmaker.  It is given upon the successful completion of the CW21 examination- this is a very rigorous 4 day examination that includes a written 23 page examination of short answer watch related questions.  Then a complete service of a automatic chronograph, a complete service of a automatic watch, a complete service of a quartz watch and a balance staff replacement in a mechanical watch.  All of these watches have specific errors introduced into them and all errors must be corrected. The watches have to be cleaned, relubricated and run to the manufacturers specifications.  All of these must pass according to a specific grading criteria.  The reason it is so important is because of the rigorous nature of the test and the candidates that pass and are awarded the CW21 designation are of the highest caliber of watchmakers. Certain manufacturers do not allow their parts to be sold to watchmakers that do not hold the CW21 designation.  Since there are only about 250 CW21 watchmakers out there and approximately 10,000 watchmakers that are doing service on watches it is very important for you to look for the CW21 designation.  However, the consumer must be aware that since the designation is so recognized in the industry that there are people out on the Internet that claim they are CW21 or have someone working for them that has a CW21, the long and short of it are if they will not tell you who the CW21 is then you should assume they do not have the designation.
Who are your CW21 watchmakers?
This is the best question a consumer can ask. Our CW21 watchmaker is Craig R. Stone.
How can I check the qualifications for the CW21 certification?
You can go to www.awci.com to check the credentials or you can click this link to check the credentials of Craig R. Stone CW21
What should a consumer look at when their valuable timepiece needs repair or restoration?
With the advent of the Internet, there seems to be an endless number of watch repair services online. A search of Watch repair returns hundreds of websites with claims of watch repair expertise.
Thanks to the AWCI, (American Watchmakers-Clockmakers Institute) there is a simple way to find a qualified watchmaker.
Recently, the AWCI, in cooperation with some of the leading watch manufacturers (Omega, Breitling and others) created a new series of certifications with the highest and most stringent standards for watchmakers. The certification category for a watchmaker is identified as CW21.